70 items gevonden voor 'Trends' in dinsdag echo $numrows ?>De links 1 t/m 50.

Nieuwsbronnen
(1)
World: SmallBusinessTrends:
Belgie: Knack.be_Gezondheid: [ Geolocation ] (Laatste update: Dinsdag 2 Juni 2020, 21:18:13 )
Marc Moens (erevoorzitter BVAS): Artsen krijgen testresultaten van pati«nten nog altijd veel te laat
Dokter Marc Moens, klinisch bioloog en erevoorzitter van de Belgische Vereniging van Artsensyndicaten, trekt aan de alarmbel. "Testen en contacten opsporen heeft enkel zin als de uitslag van die testen snel tot bij de behandelende artsen geraken. Dat is nu niet het geval door een falend informaticaplatform", zegt Moens. Dat is volgens Moens te wijten aan de ingrepen die minister Philippe De Backer...
29 May 2020, 10:43:05

Mithra start onderzoek naar hormoonbehandeling bij covid-19
Het Waalse farmabedrijf Mithra, dat gespecialiseerd is in gezondheidszorg voor vrouwen, gaat een onderzoeksprogramma opstarten rond een mogelijk positief effect van het vrouwelijk zwangerschapshormoon estetrol in de behandeling van covid-19.
25 May 2020, 11:07:05

Belgie: Skynet.be Nieuws Belgie: [ Geolocation ] (Laatste update: Dinsdag 2 Juni 2020, 21:18:13 )
Trends in partijpolitieke publiciteit op Facebook zetten zich door
Vlaams Belang heeft in de maand mei meer dan 100.000 euro uitgegeven aan publiciteit op Facebook. Dat blijkt uit het verslag van de betaalde boodschappen op de site.
2 June 2020, 15:05:10

Europa: Belgie: Knack.be [ Geolocation ] (Laatste update: Dinsdag 2 Juni 2020, 21:18:13 )
Waarom covid-19 niet het einde wordt van de globalisering
China wordt ervan beschuldigd de bron te zijn van het virus dat de wereld verwoest. Tegelijk beseft het Westen dat het misschien wel te afhankelijk is geworden van de werkplaats van de wereld. Moeten we zo snel mogelijk cruciale sectoren opnieuw naar hier halen? Zo simpel is dat niet.
27 May 2020, 21:00:05

Nederland: Fondsnieuws.nl: [ Geolocation ] (Laatste update: Dinsdag 2 Juni 2020, 21:18:13 )
Analyse: bij Robeco begint de duimschroef pijn te doen
Eind 2019 vertelde topman Gilbert van Hassel aan Fondsnieuws dat hij terugkeek op een derde jaar van record-instroom op rij. Zowel in 2017, 2018 als 2019 stroomde ruim 10 miljard euro aan "nieuw" geld binnen. De trots en blijdschap om dat behaalde resultaat waren groot bij hem.
Maar al die inspanningen leveren per saldo weinig meer op dan vermoeidheid, als het samenvalt met de aankondiging van het Pensioenfonds Vervoer dat het het pakweg 25 miljard euro grote institutionele mandaat per 2020 overdraagt aan Achmea Investment Management. Heel spijtig, zei Van Hassel in het gesprek.
In het verlengde van het verlies van het mandaat doekte Robeco zijn fiduciaire dienstverlening op. Ook andere, kleinere mandaten verdwenen naar derden en van de opgebouwde mankracht en expertise werd (deels) afscheid genomen. Intern gemor was er het gevolg van, maar in de markt geeft men Van Hassel gelijk: als schaal ontbreekt, zoals bij Robeco het geval is, dan is er - gelet op de flinterdunne marges - geen droog brood aan te verdienen.
Verstandshuwelijk is over
Het bleef echter niet bij het verlies van fiduciaire klanten alleen. Ook op de thuismarkt tekende zich vorig jaar een ontwikkeling af die al langer in het vat zat: de grootbanken verbraken (mede) onder druk van het provisieverbod het verstandshuwelijk met fondshuizen: Rabobank deed de selectie over aan BlackRock. ING besloot zijn eigen accenten te gaan leggen, met een sterke focus op individuele aandelen die het investment office van de bank zelf selecteert en beheert. ABN Amro richt zich intussen sterk op mandaatfondsen en begint daarbij zoetjesaan ook weer eigen huisfondsen te ontwikkelen.
Voor asset managers is dat een nieuwe uitdaging. Nu het verstandshuwelijk verbroken is, zien sommige partijen de banken zelfs als concurrenten. Nu ze voor mandaatoplossingen hebben gekozen, zijn de banken niet meer afhankelijk van opgezette fondsstructuren en is er veel meer te kiezen, aldus een gatekeeper. Hierdoor neemt de druk op asset managers verder toe, zowel op het punt van kosten als van prestaties.
Wat dat betekent werd eerder dit jaar duidelijk, toen bekend werd dat Amundi de core van de beleggingsportefeuilles van Rabobank met ETFs mag invullen en dat - naar verluidt - tegen een prijs doet die duidelijk maakt dat deze Franse partij meer gericht is op marktaandeel dan op marge. Dit rigoreus veranderde beleid bij de grootbanken in Nederland heeft in de salesorgansatie van Robeco inmiddels tot drastische aanpassingen geleid (zie kader).
Focus op korte termijnresultaten
De moeilijkere marktomstandigheden - niet alleen in Nederland, maar ook in andere delen van Europa - heeft er toe geleid dat de board van Robeco meer op kortetermijnresultaten stuurt. Daarbij zijn de toon en de stijl een stuk directiever geworden. Dat heeft bijgedragen tot een cultuuromslag die niet iedereen bevalt, zegt een bron. Robeco was altijd een leerschool voor jong talent. Talent dat veel kansen kreeg en ook fouten mocht maken, met als resultaat een sterk middenkader. Dat is aan het veranderen, de sfeer is harder geworden. Zo is er geen geduld meer met mensen die enkel op de winkel passen.
Verbazingwekkend is dat niet, gelet op de professionele achtergrond van Gilbert van Hassel. De Belg heeft zijn carri¨re gemaakt bij zakenbank JP Morgan, waar toch het adagium geldt van "hire and fire": wie presteert mag voortdurend op een hogere, beter betaalde sport van de carri¨reladder gaan staan, maar wie niet mee kan, moet eruit.
Zo is de raad van bestuur onder Van Hassel inmiddels bijna volledig veranderd. Want naast veteraan Peter Ferket, ging ultimo 2018 ook CFRO Roland Toppen na 25 jaar weg. En eind vorig jaar vertrok Mariken Tannemaat met de stille trom. Zij was van NN overgekomen, maar bleef niet langer dan negen maanden aan boord. In het perspectief van haar vertrek valt sowieso op dat de laatste jaren veel vrouwen in senior-posities bij de Rotterdamse asset manager zijn vertrokken.
De focus op kortetermijnresultaten door Van Hassel is niet onbegrijpelijk, gelet op de moeilijke marktomstandigheden en op de hoge winstafdracht die het Japanse moederbedrijf Orix klaarblijkelijk van hem verlangt. Zo heeft Robeco sinds 2016 al bijna 900 miljoen euro aan dividend overgeboekt naar Tokio, indien ook het toegezegde dividend over 2020 gestand kan worden gedaan.
Die dividenduitkering kon ook, omdat Robeco uitstekende, winstgevende jaren achter de rug heeft. Maar gelet op grote trends als lage rente, vergrijzing en verschuiving van het economisch zwaartepunt naar Azi«, is het geenszins zeker dat het huis ook even winstgevend blijft. Asset management is een schaal- en kostenspel geworden, tenzij je over unieke capabilities beschikt. Robecos factorbeleggen en enhanced indexing is daar een voorbeeld van, maar veel van die factorpremies - zoals value en midcaps - staan al langere tijd onder druk. Bovendien dreigen factorpremies "een crowded trade" te worden en kunnen concurrenten met goede data-analyse en programmas relatief gemakkelijk tot deze niche toetreden, waarschuwt men in de markt.
Hoe zit het met de pijplijn?
Op de vloer, waar de "investment engineers" zitten, is geklaag over de raad van bestuur te horen: er is veel focus op de kortetermijn(resultaten), maar hoe zit het met het langetermijnperspectief? En is de board wel voldoende bezig om de toekomst van Robeco als zelfstandige asset manager veilig te stellen?
Zo komt van overnames en van productinnovatie tot dusver ogenschijnlijk weinig terecht. Weliswaar zijn vijf kernthemas benoemd - credits, high yields, emerging markets, factor- en trendbeleggen, met duurzaamheid als overlay -, die Robeco een uitstekende naam in de beleggingswereld hebben bezorgd. Maar, de waarschuwing luidt zowel van binnen als van buiten: de huidige innovaties zijn vooral variaties op dezelfde themas.
Er zit op dit moment - naar het lijkt - niet veel in de pijplijn. Van overnames, waartoe Orix al sinds de aankoop in 2013 aanmoedigt, is nog geen sprake geweest. Zo zou het huis zich kunnen versterken met strategie«n rond alternatieve beleggingen, waar vanwege de extreem lage rente in de institutionele wereld z©©r veel vraag naar is.
Critici zeggen dat Robeco nog altijd goed verdient op zijn bestaande beleggingsthemas, maar dat de asset manager het risico loopt zich onvoldoende voor te bereiden op een toekomst waarin de klantportefeuilles steeds meer hybride van aard worden en waarin bijvoorbeeld private markets een vitale rol zullen gaan spelen.
Visie Orix
Orix ziet gevaren van stilstand bij haar dochter. Zo schrijft het Japanse moederbedrijf in zijn jaarverslag over 2019 (pag. 72-73) dat de afgelopen jaren snel stijgende prijzen in het asset management overnames in de weg hebben gestaan; dat het relatief geringe beheerde vermogen van Orix Corporation Europe NV (= Robeco e.a.) de voordelen van schaalgrootte frustreren en dat de organisatie verzwakt wordt zowel door het vertrek van talentvolle beleggers als door zware kostendruk door de concurrentie van passief.

Robeco past sales- & marketingorganisatie aan

Robeco heeft besloten minder gewicht toe te kennen aan de Nederlandse thuismarkt, waar het meer om consolidatie dan om groei gaat. Dat heeft voor aanpassingen in de salesorganisatie geleid. Zo zijn Chris Suiker, managing director voor sales Benelux en Pieter Krom, die head wholesale distribution was, inmiddels vertrokken. Daarop is de Benelux organisatie opnieuw verkaveld langs de landsgrenzen: Robin van der Poel is hoofd wholesale Netherlands geworden, terwijl Frank Groven nu head of Belgium & Luxembourg is. Hij doet dat samen met Sven Verstraete als director institutional & wholesale business development en John van der Moezel, in de functie van executive director business development.

Mark te Riele is al eerder aangetrokken als wereldwijd hoofd marketing. Te Riele heeft veel internationale ervaring. Zo was hij ondermeer bij BNP Paribas Investment Partners verantwoordelijk voor de marketing in zeventien landen. Bovendien is hij langere tijd in Azi« gestationeerd geweest. Hij wordt bijgestaan door Jelle Vervoorn, die ook uitgebreide professionele ervaring heeft in Azi«. Het illustreert dat Robeco vooral groeikansen in dit deel van de wereld ziet en daar zijn marketinginspanningen op richt. Te Riele rapporteert aan Christoph von Reiche, die binnen de board verantwoordelijk is voor de wereldwijde distributie en marketing.


2 June 2020, 06:00:00

Japanse aandelen staan aan de vooravond van een rally
In een gesprek met het Belgische zusterplatform Investment Officer kan Kaye van het Comgest Growth Japan-fonds zijn optimisme voor Japanse aandelen nauwelijks in toom houden. Wel kiest hij volop voor het nieuwe Japan en laat het oude, met als speerpunt de auto-industrie, links liggen.
De fondsbeheerder is 24 jaar actief in Japan en is nog nooit zo optimistisch geweest over Japanse aandelen. Hij wijst meteen enkele redenen aan die volgens hem te weinig aandacht krijgen. 'Belangrijk is dat Japanse institutionele beleggers zoals private pensioenfondsen na een twintig jaar afwezigheid terugkomen naar de eigen markt. De gehele voorgaande periode zijn ze bang geweest van hun eigen markt door het uiteenspatten van de zeepbel eind de jaren '80. Daar bovenop ligt het aantal retailbeleggers, dat voor het eerst in de beurs wil stappen, op recordhoogte. De vijf Japanse onlinebrokers kunnen de vraag niet aan en men moet 20 dagen wachten om een rekening te openen. Japan koopt Japan kort samengevat.'
En de traditionele kopers: de centrale bank en het Nationale Pensioenfonds? 'Die zijn er ook nog, maar met veel kleinere volumes dan voorheen. De private pensioenfondsen hebben duidelijk de fakkel overgenomen en aangezien vandaag slechts 1 procent van hun portefeuille uit lokale aandelen bestaat, is het groeipotentieel aanzienlijk.' De Japanse beheerder stipt nota bene aan dat sinds begin dit jaar er via ETF's al 3,4 miljard dollar naar Japanse aandelen is gevloeid en de helft daarvan afkomstig is van Japanse beleggers. 'Ze hebben in de crisis een opportuniteit gezien.'
Achtergebleven
Een andere reden is volgens Kaye dat het coronavirus Japan veel minder heeft geraakt dan in andere ontwikkelde landen en de economische impact dan ook beperkt is. 'En buiten Japan is men zich door de beperkte berichtgeving niet goed bewust van deze gunstige situatie. Rekening houdende hiermee lijkt het me een interessant moment om in Japanse aandelen te stappen.'
Toch bleven de Japanse beursindices sinds het herstel van midden maart achter op andere markten. 'Japan is nog steeds een verkeerd begrepen land, economie en markt,' benadrukt de Comgest-specialist. 'Vergeet daarbij niet dat Japanse beursindices het gedurende 20 tot 30 jaar slechter hebben gedaan dan andere ontwikkelde markten en dat blijft bij beleggers hangen. En dat was ook de laatste 5 jaar het geval, zelfs al zijn Japanse bedrijfswinsten veel sterker zijn gegroeid dan de Amerikaanse.' Volgens Kaye is de Japanse aandelenmarkt dus constant relatief goedkoper geworden. En die decorrelatie wordt steeds meer opgemerkt, vooral door de Japanners zelf.
Twee belangrijke thema's
Voor Richard Kaye bieden Japanse aandelen een uitstekende springplank om op de langetermijngroei van Azi« in te spelen omdat 60 70 procent van de winst van Japanse bedrijven buiten Japan wordt gegenereerd en het leeuwendeel uit Azi« komt. 'Over het algemeen zijn dit type van Japanse bedrijven goedkoper dan hun Aziatische equivalenten, is er een hogere liquiditeit, een beter bestuur en een langer trackrecord. Opvallend is ook dat veel van die bedrijven de voorbije weken een positief verhaal konden vertellen dankzij het herstel in onder meer China, Vietnam, Taiwan en andere landen uit de regio.'
Een ander belangrijk thema is de grondige verandering van de Japan maatschappij zelf. 'Dat brengt weer extra opportuniteiten met zich mee. Vooral innovatieve bedrijven profiteren daar enorm van zoals bijvoorbeeld GMO dat actief is op het vlak van virtueel en zonder cash betalen. Maar ook Japanse bedrijven die inzetten op consolidatie en het verbeteren van effici«ntie spinnen momenteel volop garen.'
'Mijd het oude Japan'
Kaye wijst erop dat deze twee thema's worden genegeerd en beleggers, die voor het eerst in jaren weer in Japan willen beleggen, de verkeerde vragen stellen. 'Ze willen weten of Toyota of Japanse banken interessant geprijsd zijn. Deze industrie«n staan voor het oude Japan en kennen een structurele neergang. Ze profiteren niet van de groei in Azi« en spelen te weinig in op de veranderende trends. Het is spijtig dat de verschillende Japanse beursindices nog altijd voornamelijk bestaan uit het oude Japan zoals de auto-industrie, banken, grote chemische bedrijven, makers van grote machines, handelsgroepen zoals Mitshubishi Corporation en scheepvaartbedrijven. En het valt dan ook te betreuren dat velen Japanse ETF's kopen. De kans is groot dat de winstgroei zal ontgoochelen en de ETF in kwestie zal achterblijven.'
Eigen portefeuille
Met het Comgest Japan Equities-fonds, dat 11 jaar bestaat, speelt Richard Kaye volop in op de Azi«-strategie en laat hij het oude Japan links liggen. En dat werpt zijn vruchten af want sinds begin dit jaar doet hij 11 procent beter dan de brede Topix-index.
'Er zijn zo'n 300 400 aandelen van de in totaal 2000 Japanse beursgenoteerde bedrijven waar we afgaande op de stevige historische groei en return on capital zouden kunnen in beleggen maar onze portefeuille bestaat uit slechts 30 35 namen. We proberen enkel de beste bedrijven van deze lijst te selecteren door ons te baseren op kapitaaldiscipline, de aantrekkelijkheid van het businessmodel en de concurrentiekracht. Eigenlijk zoeken we bedrijven die we voor altijd kunnen aanhouden. Een vijfde van onze portfolio hebben we voor meer dan 10 jaar in de portefeuille.
Aandelen waar Kaye in belegt, hebben een bovengemiddelde koers-winstverhouding, namelijk tussen de 25 en 30, terwijl het gemiddelde van de Japanse beurs 12 keer de winst bedraagt. 'We hebben altijd een 100 procent-premie gehad tegenover het gemiddelde. Dit is gerechtvaardigd gezien de hogere groeivoet van onze bedrijven. Maar dat betekent eigenlijk niets want het oude Japan zorgt voor de scheeftrekking. Deze moeten goedkoop zijn omdat ze waarde vernietigen.'
Bedreigingen?
Dat Kaye positief is tegenover Japan staat buiten kijf maar zijn er ook bedreiging die het verhaal onderuit zouden kunnen halen? 'De grootste bedreiging is een handelsoorlog tussen de VS en Japan, niet het Chinees-Amerikaanse dispuut. Japan heeft zelfs geprofiteerd van dit laatste omdat sommige Japanse bedrijven marktaandeel wonnen omdat hun Amerikaanse concurrenten buitenspel werden gezet. Een bedreiging zou dus zijn als de Amerikanen plots tarieven op Japanse producten zouden invoeren. En met president Trump bestaat die mogelijkheid altijd.'

Kaye vermeldt echter dat Japan zijn handelsoorlogen reeds heeft gehad en dankzij deze ervaring weet hoe ermee om te gaan. 'In de jaren '70 en '80 kreeg het reeds te maken met Amerikaans protectionisme. En als tegenzet heeft Japan toen massaal productiefaciliteiten in de VS gebouwd. De machinemaker Komatsu bijvoorbeeld produceert bijna evenveel in de VS dan Caterpillar. Vermeldenswaardig is dat de dag Trump werd verkozen, en de beurzen zwaar terugvielen, de Japanse eerste minister Shinzo Abe hem reeds ontmoette in de Trump-toren. De VS is al 40 jaar lang de belangrijkste handelspartner van Japan!'


29 May 2020, 06:00:00

Top 5 duurzame aandelen: Baillie Gifford op 1 ©n 2
De eerste maanden van 2020 zullen de boeken ingaan als buitengewoon volatiel. Tot medio februari leek er geen vuiltje aan de lucht en konden aandelenbeurzen wereldwijd hun opmars uit 2019 gestaag voortzetten. Echter, nadat duidelijk werd dat het coronavirus niet beperkt bleef tot een Chinese provincie, maar zich ontwikkelde tot een snel om zich heen grijpende pandemie, werden beleggers nerveus en begonnen massaal te verkopen. Als gevolg daarvan stortten aandelenkoersen in.
Minder grote verliezen voor duurzaam
Juist in dat beursgeweld lijken duurzame aandelenfondsen hun bestaansrecht definitief verworven te hebben. Hoewel er weinig plekken zijn voor beleggers om te schuilen, blijken duurzame aandelenfondsen het namelijk beter te doen dan hun conventionele concurrentie. Althans, zij lijden minder grote verliezen.
Een eerste reden voor die betere prestaties staat volgens Morningstar-analist Ronald van Genderen los van de coronacrisis. Hij doelt op de olieprijsoorlog tussen Rusland en Saoedi-Arabi« die de olieprijs deed kelderen, met eenzelfde gevolg voor de koersen van oliemaatschappijen. 'Aangezien duurzame fondsen vaak niet of minder zijn belegd in de energiesector, scheelt hen dat flink wat verliezen.'
Een sector die wel te lijden heeft onder de coronacrisis, is de financi«le wereld. Duurzame aandelenfondsen beleggen niet per se minder in deze sector dan fondsen zonder duurzaam beleggingsmandaat. Het is eerder dat zij vaak voor andersoortige bedrijven binnen de sector kiezen. De bedrijven die het het zwaarste te verduren kregen tijdens de marktcorrectie, waren de grootbanken, zoals het Amerikaanse Citigroup of het Nederlandse ABN Amro. Van Genderen: 'Duurzame fondsen hielden vooral posities aan in bijvoorbeeld kleinere, meer conservatieve banken (zoals Scandinavische banken), aandelenbeurzen, online-betalingsplatformen en creditcardmaatschappijen. Al deze sub-industrie«n hebben beter gepresteerd dan de bredere sector in zijn geheel.'
Meer belegd vermogen
Wellicht ondersteund door deze prestaties, zetten duurzame fondsen ook hun sterke opwaartse trend in termen van belegd vermogen voort. De laatste jaren vertoont het vermogen dat is belegd in duurzame fondsen een sterke groei, analyseert Van Genderen. 'Die trend is door de coronacrisis niet verbroken, integendeel. Over de eerste drie maanden van het jaar staken beleggers opnieuw meer geld in duurzame fondsen. Ondanks de door COVID-19 ingegeven marktdalingen trok het Europese universum van duurzame fondsen in het eerste kwartaal van 2020 33 miljard dollar aan kapitaal aan. Dit staat tegenover de 163 miljard dollar die uit het totale Europese fondsenuniversum stroomde¸ blijkt uit ons laatste Morningstar Global Sustainable Fund Flows Report.'
In de top 5 van deze week zet van Genderen de vijf best presterende wereldwijde duurzame aandelenfondsen over de eerste vier maanden van 2020 op een rij, waarvan een distributievergoedingvrije aandelenklasse beschikbaar is in Nederland. Het universum waar hij naar heeft gekeken, omvat alle fondsen in de Morningstar categorie«n Aandelen Wereldwijd Large-Cap Waarde, Aandelen Wereldwijd Large-Cap Gemengd en Aandelen Wereldwijd Large-Cap Groei, waarbij offici«le fondsdocumenten aangaven dat duurzaamheid of ESG criteria onderdeel vormen van het beleggingsbeleid.
Baillie Gifford op 1 en 2
De eerste en tweede plaats worden ingenomen door fondsen van Baillie Gifford. De hoogste trede van het podium is voor het Worldwide Positive Change Fund. Van Genderen: 'Dit fonds heeft een geconcentreerde portefeuille met 25 tot 30 aandelen van bedrijven met uitzonderlijke groei, die kunnen bijdragen aan een duurzamere wereld voor huidige en toekomstige generaties. Het vijfkoppige beheerteam (o.a. Kristy GIbson, foto) heeft in de portefeuille onder meer een plek ingeruimd voor Moderna. Dat Amerikaanse biotechbedrijf werkt op dit moment aan een vaccin voor COVID-19 en was met een rendement 140 procent (tot en met eind april) het best presterende aandeel uit de portefeuille. Het was daarmee echter niet de enige reden voor het succes van het fonds dit jaar. Ook de grootste positie van het fonds, Tesla met een weging van meer dan 8 procent, steeg in de eerste vier maanden met meer dan 90 procent.'
Runner-up is het Worldwide Global Stewardship Select Fund. Dit fonds belegt in de 'beste verantwoordelijke bedrijven ter wereld', aldus Van Genderen. 'Het achtkoppige team maakt bij hun zoektocht naar dergelijke bedrijven gebruik van de diverse regionale teams binnen de onderneming. Het fonds biedt met 70 tot 100 posities aanzienlijk meer diversificatie dan het Worldwide Positive Change Fonds. Bovendien is de overlap tussen de twee fondsen met 10 posities beperkt. Onder de doublures treffen we onder andere Tesla aan, dat hier slechts een weging van 4 procent heeft. Zo is er met Zoom Video Communications een aandeel dat duidelijk als winnaar uit de huidige crisis tevoorschijn is gekomen en de beste prestaties in de portefeuille heeft laten zien. Echter, Shopify behoort ook tot de aandelen met de sterkste prestaties en mag bovendien tot de grootste posities gerekend worden.'
DPAM
Op de vijfde plaats in dit overzicht staat DPAM INVEST B Equities NewGems Sustainable. Dit fonds van Degroof Petercam belegt in wat de beheerders beschouwen als de bedrijven van de toekomst. Het beheerteam bestaande uit Alexander Roose, Quirien Lemey en Dries Dury, identificeert dergelijke bedrijven aan de hand van het acroniem NEWGEMS (trends en themas van activiteiten met betrekking tot nanotechnology, ecology, well-being, generation Z, E-society, Industry 4.0 and security) en op basis van ESG criteria. Van Genderen: 'Onder de grootste posities in de circa 75 namen tellende portefeuille vinden we enkele bekende namen, zoals Microsoft, Apple, Alphabet en Amazon. Echter, onder de aandelen met uitblinkende koersprestaties dit jaar vinden we minder bekende juweeltjes zoals Teladoc Health, Livongo Health, Zscaler en Everbridge.'

| | | | | |
| --- | --- | --- | --- | --- |
| Fonds | Total return YTD | Total return 3jr geannualiseerd | Std dev 3 jr | ISIN |
| Baillie Gifford WW Positive Change Fund | 13,23 | | | IE00BZ180B88 |
| Baillie Gifford WW Global Stewardship Select Fund | 7,79 | | | IE00BGGJJH20 |
| MS INVF Global Opportunity Fund | 2,95 | 16,27 | 16,92 | LU0834154790 |
| Kames Global Sustainable Equity Fund | 2,80 | 13,61 | 20,07 | IE00BYZHYX44 |
| DPAM INVEST B Equities NewGems Sustainable | 1,60 | | | BE6246060360 |
Bron: Morningstar, rendementen in procenten


29 May 2020, 06:00:00

Nederland: Toprankblog.com: [ Geolocation ] (Laatste update: Dinsdag 2 Juni 2020, 21:18:13 )
B2B Marketing News: Top Enterprise Firm Challenges, What B2B Buyers Want, Mobile Ad-Buy Shift, & LinkedIn's Content Trends
What B2B Buyers Want From Tech Vendors Right Now55 percent of B2B buyers say its appropriate for marketing efforts to continue during these challenging times, and 53 percent are presently in the market for B2B products and services, with most of those having recent new purchasing interests, according to newly-released survey data. MarketingProfsProgrammatic Ad Spend Down 9% Since Beginning of 2020, Driven by Travel and AutoAmidst an overall fall of 9 percent in April, ad spending for the technology vertical and the education and training segment were up 70 percent and 63 percent for the year, with streaming ad spend also up by some 18 percent, according to recently-released report data. AdweekExclusive: New York Times phasing out all 3rd-party advertising dataThe New York Times has begun eliminating all third-party advertising targeting information, and by July the firm will instead use a fully-proprietary platform, the company recently announced. AxiosGoogle's digital-ad dominance is harming marketers and publishers, says new studyDigital marketers and publishers have been hurt as a result of Googles online advertising dominance, according to a new study, with display ads the primary focus of the Omidyar Network and Public Knowledge report. AdAgeReddit Launches New, 12-Week Online Advertising School ProgramSocial news and discussion platform Reddit has launched a three-month online community-driven advertising school program, led by director-level-or-above instructors covering 12 marketing topics, the firm recently announced. Social Media TodayPolls Return to Messenger From Facebook. After a year's absence Facebook Messenger polls have been brought backDigital marketers lamenting the elimination of Facebooks Messenger polls a year ago got good news recently, as the social media giant announced that it has brought the polling option back for group chats. Adweek
Pandemic hastens shift in ad buying to mobile, study saysDuring an overall drop in ad spending, mobile ad spend has fared the best, as its 15 percent decrease was less than the 25 percent seen for desktop ad buying, according to recently-released study data. Mobile MarketerFacebook Launches New App Called CatchUp to Facilitate Group Phone ChatsFacebook recently released a tool to help bring online conversations to real-time phone communications, with the lanch of CatchUp, becomming Facebook's sixth new app release in the past half year, the firm announced. Social Media TodayEnterprise Companies Struggle with Customer Experience TasksReal-time insights, personalization, and consistent data formatting are the top three customer experience (CX) challenges for enterprise firms, according to recently-released study data. MarketingChartsLinkedIn Publishes New Guide to Key Content Trends Amid COVID-19LinkedIn (client) has released new information about trending content on the Microsoft-owned platform, with top trending hashtags and other information of interest to digital marketers, the firm announced. Social Media TodayON THE LIGHTER SIDE:
A lighthearted look at "the new normal" by Marketoonist Tom Fishburne â€" MarketoonistWhoooaaa Duuuuude: Why We Stretch Words in Tweets and Texts â€" WiredTOPRANK MARKETING & CLIENTS IN THE NEWS:Have you come across your own top B2B content marketing or digital advertising stories from the past week of news? Please let us know in the comments below.Thank you for joining us this week, and we hope that you will return again next Friday for more of the most relevant B2B and digital marketing industry news. In the meantime, you can follow us at @toprank on Twitter for even more timely daily news. Also, dont miss the full video summary on our TopRank Marketing TV YouTube Channel.
29 May 2020, 12:30:30

Hyperspace: 5 Surprising Marketing Lessons From '80s Arcade Games
What can marketers in 2020 learn from the low-resolution stand-up video arcade games of the 1980s?Here are five surprisingly-modern marketing lessons that we can learn from and implement today, with roots that come directly from vintage '80s arcade games.Slap that fire button and lets warp ahead and take a nostalgic look back at a simpler time in both video gaming and marketing, and then hyperspace ahead to todays vastly different landscape.
1 â€" Defender: Fire & Forget for a Constant Content Cadence
[caption id="attachment_28500" align="alignnone" width="600"]
Photo by Author[/caption]Williams Electronics' Defender is my all-time favorite stand-up video arcade game, an insidiously difficult side-scrolling spaceship-protecting-the-world shooting match juggernaut from 1981 programmed by early video game legend Eugene Jarvis.I played Defender so much that I eventually won a local video game competition, and can still almost feel where I had callouses on my hands from hour upon hour of game-play long ago.Defender teaches marketers the importance of keeping up a steady cadence of publishing content. In the case of Defender, the entire universe depended on firing off never-ending shots to protect humanoid figures from a variety of swiftly-moving alien invaders, while for marketers our success depends on keeping our content marketing fire buttons active to stave off audience abandonment and ghosting.Smart content marketing features a steady publication of relevant information and best-answer content, which may not save the universe, but when done right can hold your audience's attention and gain new customers, fans and followers through engaging content.
2 â€" Robotron: Find Marketing Order in a Sea of Content Chaos
Officially Robotron: 2084, this 1982 Williams 2D multi-directional shooting game also primarily developed by Eugene Jarvis is my second-favorite video game, another intensely challenging dive into a strange alien world populated by a colorful array of 8-bit digital baddies.Robotron teaches marketers the importance of perseverance in what can at first seem like a stormy sea of digital content chaos.Robotron's game-play involves protecting the last humans in the universe as an intimidating collection of serious alien killing machines try to do away with the humans and â€" especially â€" you.Marketers similarly can easily feel overwhelmed by the sheer number of social media platforms, digital asset creation apps, and the vast amount of data surrounding the content being published.Making sense of it all takes time and a concerted effort to learn what can at first seem to be an alien landscape, which can be done when you:
3 â€" Donkey Kong: Take Your Marketing to "Triple Elevators" Success
via GIPHYAn entirely different flavor of '80s arcade game is Nintendo's 1981 hit Donkey Kong, a deceptively simple multi-level platform game with such staying power in our culture that it is still making news in 2020, as the game's previous world record high-score holder Billy Mitchell â€" who featured prominently in the cult indie hit King of Kong documentary â€" has filed a defamation lawsuit.In Donkey Kong, an angry gorilla hurls barrels of death and other colorful impediments in the path of your player Mario â€" a character who debuted here, originally called Mr. Video and later Jumpman. Screen after screen bring newfound challenges in the game, culminating with a stage featuring intricately-timed elevators and then a diabolical conveyor belt challenge.Donkey Kong teaches marketers that successfully avoiding obstacles can take a brand from the humblest beginning to the loftiest heights, especially when it comes to social media marketing.Unlike Defender and Robotron, which each have many random and free-form movement elements and options, Donkey Kong instead can teach marketers the value of learning a particular industry's unique facts to drive success in a known social media environment.Educate your marketing Mario by dedicating the time to learn the details of each social media platform your brand is using or plans to have a presence on. We've written a number of recent articles exploring the latest social media firm marketing features and platform maneuvers, including these:[bctt tweet=""Successfully avoiding obstacles can take a brand from the humblest beginning to the loftiest heights." â€" Lane R. Ellis @lanerellis" username="toprank"]
4 â€" Crystal Castles: Gather Gems & Avoid Tone-Deaf Marketing
Atari's 1983 arcade game Crystal Castles is another favorite filled with its own marketing lessons even all these years later.Controlled by a trackball and jump buttons, Crystal Castles sees the player maneuvering a bear around towering castles while picking up enticing gems and avoiding evil trees and dangerous bees.When released, its bright, colorful graphics and catchy sounds and music â€" along with level graphics that flew onto and off of the screen accompanied by a tune based on Tchaikovsky's Nutcracker Suite in a way never seen or heard before â€" enticed many including myself to repeatedly insert quarters and learn the peculiarities of each castle level.Crystal Castles teaches content marketers to walk that fine and arduous line between picking up a trail of brand success gems and becoming overly confident and getting ensnared by nasty trees or dancing skeletons in the form of tone deaf marketing.A while back for Content Marketing World we even published a retro game themed Ultimate Guide to Conquering Content Marketing.
5 â€" Black Widow: A Vector-Based Web of Influencer Marketing
Atari's Black Widow hit the video arcade scene in 1982, and was among the first vector-graphic stand-up arcade cabinets.Players control a black widow spider on its colorful web and during the game must ward off certain insects including mosquitoes, hornets, and beetles, while attracting others using the help of other insects, all the while working to prevent foes from laying eggs.In 1982 a vector-graphics game stood out at the arcade due to the vast contrast between the darkest black pixels and the fine line-based graphics, offering a welcome escape from the standard bitmap imagery in the majority of arcade games.Black Widow teaches marketers the importance of working together with others to achieve success beyond what can be attained alone, such as when implementing an always-on influencer marketing program.Always-on influencer marketing is the practice of ongoing relationship-building, engagement and activation of a specified group of influencers to build community, content and brand advocacy.In Black Widow the spider works with other insects to rid its web of enemies, and in marketing brands can find great success working with industry influencers on the web of 2020 to gain reach and engagement that can far exceed what a single marketer or team can achieve.B2B influencer marketing is a specialty of TopRank Marketing, with several recent articles looking at this growing practice including these:
Going From Game Over To Setting Marketing High Scores
via GIPHYThe challenges today's marketers face are vastly different from those when Defender, Robotron, Donkey Kong, Crystal Castles and Black Widow came out in the early '80s, however despite these difficulties there's also never been a more opportunity-filled playing field, thanks to the vast online publishing possibilities of 2020.Implementing a successful marketing program takes time, effort, and dedicated strategy, which leads many brands to use a top B2B influencer marketing agency such as TopRank Marketing, which was the only B2B marketing agency offering influencer marketing as a top capability in Forrester's "B2B Marketing Agencies, North America" report.
27 May 2020, 12:30:43

World: Big Think.com: [ Geolocation ] (Laatste update: Dinsdag 2 Juni 2020, 21:18:13 )
Yes, websites really are starting to look more similar
Over the past few years, articles and blog posts have started to ask some version of the same question: "Why are all websites starting to look the same?"
---
These posts usually point out some common design elements, from large images with superimposed text, to hamburger menus, which are those three horizontal lines that, when clicked, reveal a list of page options to choose from.
My colleagues Bardia Doosti, David Crandall, Norman Su and I were studying the history of the web when we started to notice these posts cropping up. None of the authors had done any sort of empirical study, though. It was more of a hunch they had.
We decided to investigate the claim to see if there were any truth to the notion that websites are starting to look the same and, if so, explore why this has been happening. So we ran a series of data mining studies that scrutinized nearly 200,000 images across 10,000 websites.
How do you even measure similarity?
Its virtually impossible to study the entire internet; there are over a billion websites, with many times as many webpages. Since theres no list of them all to choose from, performing a random sample of the internet is off the table. Even if it were possible, most people only see a tiny fraction of those websites regularly, so a random sample may not even capture the internet that most people experience.
We ended up using the websites of the Russell 1000, the top U.S. businesses by market capitalization, which we hoped would be representative of trends in mainstream, corporate web design. We also studied two other sets of sites, one with Alexas 500 most trafficked sites, and another with sites nominated for Webby Awards.
Because we were interested in the visual elements of these websites, as data, we used images of their web pages from the Internet Archive, which regularly preserves websites. And since we wanted to gather quantitative data comparing millions of website pairs, we needed to automate the analysis process.
To do that, we had to settle on a definition of "similarity" that we could measure automatically. We investigated both specific attributes like color and layout, as well as attributes learned automatically from data using artificial intelligence.
For the color and layout attributes, we measured how many pixel-by-pixel edits we would have to make to transform the color scheme or page structure of one website into another. For the AI-generated attributes, we trained a machine learning model to classify images based on which website they came from and measure the attributes the model learned. Our previous work indicates that this does a reasonably good job at measuring stylistic similarity, but its very difficult for humans to understand what attributes the model focused on.
How has the internet changed?
We found that across all three metrics â€" color, layout and AI-generated attributes â€" the average differences between websites peaked between 2008 and 2010 and then decreased between 2010 and 2016. Layout differences decreased the most, declining over 30% in that time frame.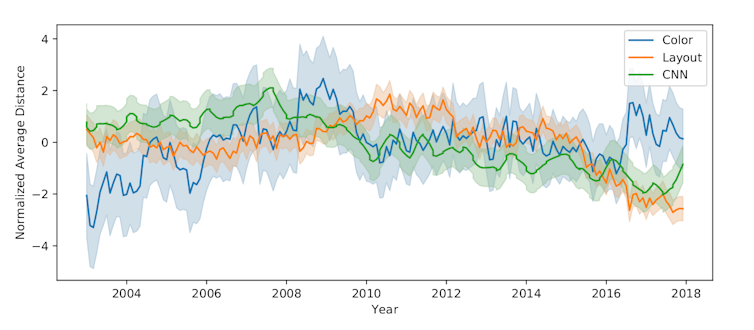 The graph shows website similarity of companies in the Russell 1000. Lower values mean that the sites studied were more similar, on average. (Sam Goree, Author provided)
These findings confirm the suspicions of web design bloggers that websites are becoming more similar. After showing this trend, we wanted to study our data to see what kinds of specific changes were causing it.
You might think that these sites are simply copying each others code, but code similarity has actually significantly decreased over time. However, the use of software libraries has increased a lot.

The graph on the left shows a decline in code similarity among Russell 1000 websites, while the graph on the right indicates an increase in library overlap. (Sam Goree, Author provided)
Libraries feature collections of generic code for common tasks, like resizing a page for mobile devices or making a hamburger menu slide in and out. We looked at which sites had lots of libraries in common and how similar they looked. Sites built with certain libraries â€" Bootstrap, FontAwesome and JQuery UI â€" tended to look much more similar to each other. This could be because these libraries control page layout and have commonly used default options. Sites that used other libraries, like SWFObject and JQuery Tools, tended look much different, and that might be due to that fact that those libraries allow for more complex, customized pages.
The changes of websites from 2005 to 2016 illustrate whats happening.
Sites with average similarity scores in 2005 tended to look less similar than those with average similarity scores in 2016.
For example, in 2005, Webshots.com and Yum.com were considered relatively similar, but had somewhat different color schemes and very different layouts. While they both mostly use white, blue and black, the site on the right has a blue background.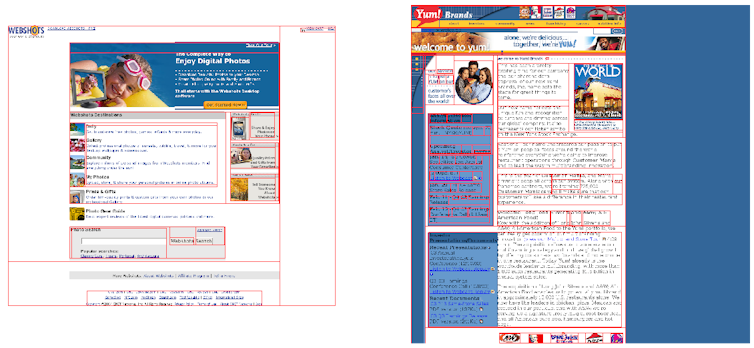 Screenshots from 2006 of Webshots.com and Yum.com. (Sam Goree, Author provided
Two 2016 sites, Xfinity.com and Gilt.com, on the other hand, are even more similar: They both have a menu bar on the top and are primarily white and black with images. These pages have much less text and make better use of the higher resolution monitors that exist now.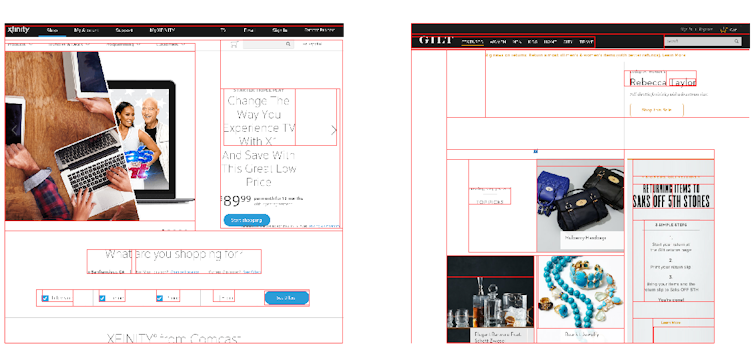 Screenshots from 2016 of Xfinity.com and Gilt.com. (Sam Goree)
Is conformity healthy?
What should be made of this creeping conformity?
On the one hand, adhering to trends is totally normal in other realms of design, like fashion or architecture. And if designs are becoming more similar because theyre using the same libraries, that means theyre likely becoming more accessible to the visually impaired, since popular libraries are generally better at conforming to accessibility standards than individual developers. Theyre also more user-friendly, since new visitors wont have to spend as much time learning how to navigate the sites pages.
On the other hand, the internet is a shared cultural artifact, and its distributed, decentralized nature is what makes it unique. As home pages and fully customizable platforms like NeoPets and MySpace fade into memory, web design may lose much of its power as a form of creative expression. The Mozilla Foundation has argued that consolidation is bad for the "health" of the internet, and the aesthetics of the web could be seen as one element of its well-being.
And if sites are looking more similar because many people are using the same libraries, the large tech companies who maintain those libraries may be gaining a disproportionate power over the visual aesthetics of the internet. While publishing libraries that anyone can use is likely a net benefit for the web over keeping code secret, big tech companies design principles are not necessarily right for every site.
This outsize power is part a larger story of consolidation in the tech industry â€" one that certainly could be a cause for concern. We believe aesthetic consolidation should be critically examined as well.
Bardia Doosti, David Crandall and Norman Su contributed to this article.
Sam Goree, PhD Student in Informatics, Indiana University
This article is republished from The Conversation under a Creative Commons license. Read the original article.

29 May 2020, 09:57:17

World: DamnCoolPics: [ Geolocation ] (Laatste update: Dinsdag 2 Juni 2020, 21:18:13 )
Commercial Trends in Digital Art
You dont need to be an expert in graphic design, debugging, or
Django logging
to understand the profit potential in digital art. What was once a strange, little-known corner of the commercial art market has gone mainstream. Take a stroll down any big-citys art walk on a cool Friday night and youll see all sorts of interesting new items that portent huge changes in what people buy to decorate their homes.
Only a decade ago, digital art purveyors were almost unheard of in galleries, on art walks and in places where local craft people display their wares. Now, its sometimes hard to spot the digital creators from the old-fashioned oil painters and sculptors. Here are some of the biggest areas where digital art has made inroads into the for-profit art market:
Prints
No other area of modern commercial art has been so affected
by digital design
as prints. Perhaps its just common sense. Prints have been machine-pressed for decades and always involved more technology than other fields of art. When digital printing became commercially viable for large, high-quality works of art about a decade ago, there was no looking back. Even after an original print of, say, a painting is made, artist can use various digital techniques to add or subtract to whats already on the paper.
Abstract Portraits
Portraiture is one area where digital and traditional art has combined in a wonderful, mind-expanding way. Many artists begin with a digital print, blow it up to a huge size and work with it from there, adding paint or other mediums to it to create unique pieces. This trend has been most successful in portraits, works that include the human face as the focal point. Galleries have opened up to the trend as well, often combining traditional portrait showings with pure digital shows and hybrid works. For digital artists, the human face has a special sort of intrigue.
Sculpture
With the advent of digital 3D printing, many people thought the sculpture market would dry up, but its done exactly the opposite. Now there are just more options for the art buyer. The digital art craze within the field of sculpture has taken off in Asia more than anywhere else. Designers are awash in commissions to come up with busts, abstract pieces and historical works for public and private spaces.
Home Decor
Ask any interior decorator and youll learn about the commercial power of digital art. Many upscale homes now opt for digital artworks for large walls and living areas. A current sub-trend is altered photographs, both original and public domain works. This type of digital creativity has been around the office scene for a number of years but is now trickling down into the real estate market. Walls that once held abstract acrylic landscapes and portraits now feature wild scenes that test the vision and challenge the mind. Think of Escher, Dali and Einstein collaborating on a gigantic altered photo and you have a rough idea of the kind of digital works that decorators pine for.


20 October 2019, 21:21:00

World: Frankwatching.com: [ Geolocation ] (Laatste update: Dinsdag 2 Juni 2020, 21:18:13 )
Een salesfunnel maken in 8 stappen
Je wil een salesfunnel maken, maar je vraagt je af waar je in hemelsnaam mee moet beginnen. Een salesfunnel bestaat namelijk uit verschillende onderdelen die je allemaal met elkaar moeten laten samenwerken. In dit artikel deel ik acht stappen die je helpen in het bouwen van een stevige salesfunnel. 1. Doelgroep Een goede salesfunnel begint […]

2 June 2020, 14:00:00

10x populair: LinkedIn Stories, verdienmodellen & SEO in tijden van corona
LinkedIn komt met iets nieuws: Stories. De een vindt het fantastisch, de ander verschrikkelijk. Hoe werkt het en wat kun je ermee? Facebook heeft ondertussen een nieuwe webshop-functie voor Instagram en Facebook gelanceerd, en TikTok wordt steeds populairder bij oudere doelgroepen. Dit en meer lees je in de populairste Frankwatching-artikelen van de maand […]

2 June 2020, 11:00:00

Leiderschap in crisistijd = bouwen aan herstel
Ons leiderschap wordt op de proef gesteld, op een manier die we weken geleden nog niet voor mogelijk hadden gehouden. De maatschappij zit 'intelligent op slot', onze reis- en vergadermogelijkheden zijn ingeperkt. Maak je borst maar nat: zwaar weer is op komst, niemand uitgezonderd. Nu zal blijken hoe veerkrachtig onze onderneming is en hoe groot […]

2 June 2020, 07:30:00

Medewerkers moeten meedenken over snelle veranderingen [5 tips]
Bedrijven en organisaties staan door de coronapandemie voor enorme uitdagingen. Net als in de maatschappij als geheel lukken de noodzakelijke veranderingen alleen door daar alle medewerkers bij te betrekken. Maar hoe doe je dat effectief? Vijf tips. Nederland gaat langzaam weer open. Op allerlei niveaus wordt daarvoor beleid gemaakt: landelijk, per sector en per bedrijf […]

1 June 2020, 09:00:00

3 tips om de productiviteit van je marketingteam te verhogen
Elk marketingteam krijgt er op een bepaald punt mee te maken. Onderbezetting. Wat kun je doen als het water je aan de lippen staat en je om komt in het werk? In dit artikel ga ik in op drie tips voor een hogere productiviteit. Hier kun je op zo'n moment op terugvallen. Het was een […]

31 May 2020, 09:00:00

Dam tot Damloop in tijden van corona: de worsteling achter de schermen
Kan de Dam tot Damloop dit jaar doorgaan, in tijden van Corona? Toen ik aan dit artikel begon, was het nog maar de vraag. Het antwoord is nu duidelijk: het kan wel â€" in sterk aangepaste vorm â€" maar het gaat dit jaar niet gebeuren. In dit artikel geef ik een kijkje in de keuken […]

30 May 2020, 09:00:00

Van power pose tot rustige handen: de beste lichaamstaal tijdens videocalls
In de eerste weken van de lockdown was videobellen voor veel mensen die dit voorheen (vrijwel) niet deden even wennen. Maar het begint bij de meeste organisaties inmiddels de norm te worden. Non-verbale communicatie is, juist ook in videocalls, ontzettend belangrijk. De afgelopen tijd mocht ik hier verschillende teams en individuen in observeren en trainen, […]

29 May 2020, 14:00:00

Voorkom dat je consumenten misleidt [nieuwe leidraad ACM]
Waar ligt de grens tussen online verleiding en online misleiding? De Autoriteit Consument en Markt publiceerde een nieuwe leidraad die de basis is voor de handhaving. In dit artikel lees je over twee thema's en 5 take aways. Op 11 februari 2020 publiceerde de Autoriteit Consument en Markt (ACM) de Leidraad 'Bescherming van de online […]

29 May 2020, 11:00:00

5 redenen om juist nu klantfeedback te verzamelen
Onderzoek wijst uit dat als je als organisatie tijdens een crisis blijft investeren in de klantgerichtheid van je organisatie, je er sterker uit komt. Blijf daarom klantfeedback verzamelen, in dit artikel deel ik 5 redenen hiervoor. Iedereen die dacht dat de effecten van Covid-19 binnen een paar weken zouden overwaaien, komt bedrogen uit. Ondanks dat […]

29 May 2020, 07:30:00

De beste bedrijven op social media in 2020
Lef, creativiteit en een goed beeld van je doelgroep: dat is nodig voor een (social)mediacampagne die impact maakt. Om in Nederland boven het maaiveld uit te steken is 'weinig' content soms al genoeg om raak te schieten. En een onverwachte wending trekt ook onze aandacht. Kort en krachtig, nuchter en met een gezonde dosis humor. […]

28 May 2020, 15:00:00

Hoe werk je aan een cultuur van digitaal (samen)werken?
Al jaren lezen en horen we succesverhalen van mensen, teams en organisaties die digitaal (samen)werken, met gebruik van verschillende digitale tools. Maar we horen en lezen evenzoveel verhalen over mislukte initiatieven, soms met precies dezelfde tools. Hoe kan dat? En hoe dat je dat eigenlijk, succesvol digitaal (samen)werken? Digitaal (samen)werken is meer dan thuiswerken Hoe […]

28 May 2020, 13:00:00

7 tips om jouw WordPress-website te onderhouden
Als ondernemer of marketeer is de kans groot dat je werkt met WordPress, het populairste CMS-systeem ter wereld om websites mee te ontwikkelen. Dagelijks ben je druk bezig om via jouw website nieuwe klanten te werven en meer omzet te genereren, maar steek je ook genoeg tijd in het onderhoud van je website? Waarom is […]

28 May 2020, 11:00:00

Sterke storytelling in crisistijd [case Fish Tales]
Hoe blijf je als organisatie sterk staan in de coronacrisis? En hoe bouw je echte connectie op met je doelgroep? Er valt veel te leren van journalisten, scriptschrijvers en showrunners. In dit artikel laten we drie stappen zien om krachtige content te maken vanuit storytelling. En we lichten ze toe aan de hand van een […]

28 May 2020, 07:30:00

Hoe de crisis ondernemers dwingt creatief te zijn [3 voorbeelden]
Door de crisis blijken een hoop beroepen helemaal niet zo belangrijk zijn als we dachten. Ja, zelfs wij marketeers kunnen gemist worden. Het draait nu om lief zijn voor elkaar en jezelf. Veel ondernemers kunnen hun werk tijdelijk niet uitvoeren. Zij zoeken creatieve manieren om te voorzien in de huidige behoeftes en zo toch te […]

27 May 2020, 14:00:00

Doe niet mee aan de crisis. Investeer, adverteer & maak geen bagger
Toen Walmart-oprichter Sam Walton in 1991 gevraagd werd om z'n mening over de korte Amerikaanse recessie die toen gaande was, was zijn antwoord even opvallend als treffend: "I've thought about it, but I have chosen not to participate." Als je in de hoek zit waar niet de allergrootste klappen vallen, doe je er verstandig aan […]

27 May 2020, 11:00:00

Campagnes tijdens corona: wat kan, en wat niet? [4 voorbeelden]
Als creatieve marketeer ben je een koorddanser tijdens deze bizarre tijden van corona. Je bent natuurlijk op zoek naar originele manieren om je merk ook nu of juist nu zichtbaar te maken. Je zoekt balans in je overweging tussen commerci«le en menselijke belangen, terwijl het gevaar dat je misbruik lijkt te maken van de situatie […]

27 May 2020, 10:00:00

Interne communicatie in het 'nieuwe normaal': 5 handige tips
Begin mei kondigden premier Mark Rutte en zorgminister Hugo de Jonge een voorzichtige versoepeling van de coronamaatregelen aan. Het 'nieuwe normaal' doet ook in Nederland bijna zijn intrede. Toch is zoveel mogelijk thuiswerken voorlopig nog het advies. Dat maakt van deze tijd h©t moment om ons alvast op dat nieuwe normaal voor te bereiden. En […]

27 May 2020, 07:30:00

LinkedIn Stories: 10 tips om mee te beginnen
Sinds 14 mei zien we de eerste uitrol van Stories op LinkedIn in Nederland. En wat zijn de reacties wisselend, van liefde tot haat. Ik behoor tot de club van liefde, maar ben ook echt wel sceptisch en vrees kwaliteitsverlies voor het platform. Want waardevolle en professionele content maken is nog niet zo makkelijk. Ik […]

26 May 2020, 14:00:00

91% van de online advertenties is geen goede match [& zo moet het wel]
Betaal jij iedere week een flinke som geld voor advertenties? De kans is groot dat je gewoon geld over de balk smijt. Ik deed onderzoek onder 200 Nederlandse advertenties, 91% daarvan had geen message match. Online advertenties net zo slecht als in 2013 Uit een onderzoek van Oli Gardner bleek in 2013 al, dat 98% […]

26 May 2020, 11:00:00

6 stappen om betrokken te blijven tijdens het thuiswerken
Honderdduizenden Nederlanders werken door de uitbraak van het coronavirus al weken thuis. De nieuwigheid is er vanaf, de meeste mensen hebben hun draai gevonden. Zolders of extra kamertjes zijn omgevormd tot kantoortjes en voor een videocall draaien veel werknemers hun hand niet meer om. Maar sommige uitdagingen zijn niet zo makkelijk op te lossen. Want […]

26 May 2020, 10:00:00

World: Newswise.com_Business: [ Geolocation ] (Laatste update: Dinsdag 2 Juni 2020, 21:18:13 )
Research Reveals Internet Crime Becoming More Sophisticated and Persistent in Florida and Other Large States
Researchers identify the top states as having the largest victim monetary losses and number of victims, and their report shows online crime trends in the last four years before 2019 (2015 to 2018) for the six top states with the highest internet crime activity.

16 January 2020, 22:30:49

World: Openculture.com: [ Geolocation ] (Laatste update: Dinsdag 2 Juni 2020, 21:18:13 )
Magnificent Ancient Roman Mosaic Floor Unearthed in Verona, Italy



One often hears about renovation projects that tear up linoleum, shag carpet, or some equally unappealing flooring to discover a pristine (and now much more attractive) layer of hardwood or tile beneath. Any building of sufficient age becomes a palimpsest, a collection of era upon era of trends in architecture and design: a look under […]


Magnificent Ancient Roman Mosaic Floor Unearthed in Verona, Italy is a post from: Open Culture. Follow us on Facebook, Twitter, and Google Plus, or get our Daily Email. And dont miss our big collections of Free Online Courses, Free Online Movies, Free eBooks, Free Audio Books, Free Foreign Language Lessons, and MOOCs.


Mon, 01 Jun 2020 11:00:49 +0000

World: SmallBusinessTrends: [ Geolocation ] (Laatste update: Dinsdag 2 Juni 2020, 21:18:13 )
Bigin from Zoho is CRM Software for Small Business and Freelancers
Zoho recently launched Bigin, an automated CRM sales pipeline specifically designed for small businesses and even freelancers who want to get away from tracking clients on spreadsheets.
2 June 2020, 20:00:00

How to Do a Competitive Analysis
A competitive analysis is the key to finding business opportunities and competing smartly against other companies. Heres how to do a competitive analysis.
2 June 2020, 15:00:20

46% of Small Businesses Worry About Cash Shortages on Reopening
A new survey from LendingTree reveals nearly half of all small business owners worry about cash flow problems as theyre reopening across the country.
2 June 2020, 13:30:07

How to Build Business Credit Fast
When you establish a business credit history you could get better loan terms and vendor contracts. Learn our proven techniques to build business credit.
2 June 2020, 12:00:09

Register.com Upgrades Platform, Discontinues Some Legacy Products
Register.com is providing more tools at better price points for small businesses.
1 June 2020, 16:30:00

21+ Best Market Research Tools
Check out our list of 21+ market research tools including market research software to help your small business beat out its fiercest competitors.
1 June 2020, 15:00:25

TransUnion Offers Small Businesses Free Employee Background Screenings in Minutes
The new ShareAble for Hires tool from TransUnion allows small businesses to get quick background checks on potential new employees.
1 June 2020, 13:30:51

Sean Covey Reveals How the 7 Habits Can Help Guide You During These Times
Sean Covey discusses challenges small business owners face as they reopen in this interview with Barry Moltz.
1 June 2020, 12:00:44

7 Ways You Can Humanize Your Brand and Win Big
Give your small business a face. Check out these 7 tips to help humanize your brand and reach more customers with the right message.
31 May 2020, 21:00:44

30% Reverse a Negative Reviews When Companies Respond
Nearly 1 in 3 customers will reverse negative reviews when companies reply and try to make things right.
31 May 2020, 18:00:01

World: Trendwatching.com: [ Geolocation ] (Laatste update: Dinsdag 2 Juni 2020, 21:18:13 )
trendwatching.com | DESTINATION AFRICA | Africa Trend Bulletin | September
This months game-changing tourism innovations from across the continent!
Read the DESTINATION AFRICA Africa Trend Bulletin from trendwatching.com »

26 September 2018, 18:16:13

trendwatching.com | 5 KEY TRENDS FROM THE DESIGN INDABA | Africa Trend Bulletin | May 2018
5 Key trends from the Design Indaba
Read the 5 key trends from the Design Indaba Africa Trend Bulletin from trendwatching.com »

21 May 2018, 19:12:46

trendwatching.com | TOP 5 AFRICAN BLOCKCHAIN APPLICATIONS | Africa Trend Bulletin | March 2018
Top 5 African blockchain applications
Read the Top 5 African Blockchain Applications Africa Trend Bulletin from trendwatching.com »

19 March 2018, 18:17:54

trendwatching.com | TOP 5 AFRICAN INNOVATIONS â€" OCTOBER 2017 | Africa Trend Bulletin | October 2017
This months five game-changing innovations from across the continent!
Read the Top 5 African Innovations October 2017 Africa Trend Bulletin from trendwatching.com »

31 October 2017, 20:19:53

trendwatching.com | PROTECTED: THE FUTURE OF LUXURY TRAVEL | Consumer Trend Briefing | MAY 2017
Six trends reshaping luxury travel in 2017 and beyond!
Read the Protected: THE FUTURE OF LUXURY TRAVEL Consumer Trend Briefing from trendwatching.com »

8 May 2017, 19:03:06

trendwatching.com | 2016: BACK FROM THE DEAD | Consumer Trend Briefing | February 2017
Join us as we bring 2016: BACK FROM THE DEAD to uncover innovations, insights and trend-driven opportunities that have a whole lot of life left in them.
Read the 2016: BACK FROM THE DEAD Consumer Trend Briefing from trendwatching.com »

3 February 2017, 16:01:28

trendwatching.com | 5 AFRICAN TRENDS FOR 2017 | Africa Trend Bulletin | January 2017
5 actionable, delight-inducing trends to run with NOW.
Read the 5 African Trends for 2017 Africa Trend Bulletin from trendwatching.com »

20 January 2017, 16:58:03

Google Nieuws over Trends:
"Trends" - Google News
Google News
Flickr Public Images: Trends
Flickr Photo's tagged Trends

morris-edwards posted a photo:

Are you looking forward to the global marketing trends of eCommerce platforms in 2020? If yes, then read our guide. With these innovative trends, you can see some steady growth in your online business.

Read more: www.adlibweb.com/global-marketing-trends-of-e-commerce-pl... Published: 2020-06-04 - 09:20:57

chrisbyrdreal posted a photo:

Agriculture and farming industry faces multiple challenges on account of factors like volatile commodity prices, growing population, supply-demand gap, protectionist trade policies, import barriers or subsidies in developed economies, inefficient infrastructure, and issues like food security and climate changes. With its method-based engagements and client-centric consultative approach, Procurement Resource provides you with detailed buying and settlement process end-to-end, and delivers price and market forecast, success risk factors analysis, supplier mapping, price analysis and benchmarking, spend analysis, cost reduction, and manufacturing equipment and machinery.

As a global leader in the supply chain and procurement transformation, Procurement Resource has the experience and tools to help you mitigate the immediate and evolving impacts of COVID-19 on your procurement and supply chain operations.

We have helped hundreds of Fortune 500 and Global 2000 clients, such as Unilever, CHR Hansen, Nayara Energy, BASF and DuPont, build agile, responsive procurement and supply chain organizations. And we're working with them right now to overcome this rapidly escalating global crisis.

Procurement Resource provides a wide range of supply chain and procurement solutions, supplied with leading industry experience and effective patented technologies to assist the business in the evaluation, planning and rapid reaction to COVID 19 disruptions. Published: 2020-06-04 - 05:50:33

markesiaadjani posted a photo:

''Seduce us! Like a spider spinning a web! Attack it! Attack it! Come on!''

CREDITS
- DRESS: TO.KISKI - Nova mini dress [in Cherry] @ the WIP Event June
- MAKEUP [Eyeshadow & Lipstick Set]: Identity Body Shop - Stupid Love Collection [Lelutka Version worn, also Genus & Catwa versions available] @ Cosmopolitan Event
- SKIN: FNTT STUDIO - Camilla Skin in BeigeBOM]]
- BODY APPLIERS: NARCISSISTIC - Natural Fit Body appliers [in Beige] Published: 2020-06-03 - 07:26:39

Eric G. posted a photo:

instagr.am/p/CA8C4LhB3UT/ Published: 2020-06-02 - 16:56:09

Eric G. posted a photo:

instagr.am/p/CA8DB6GBYDK/ Published: 2020-06-02 - 16:56:11

f1korporatwanita.bc571928 posted a photo:

From Creeper Creative ift.tt/3eUE3gT Published: 2020-06-02 - 13:53:58

Niki Cole posted a photo:

For all the credits, please check the Blog

Hit of the day: Deorro - Rise And Shine Published: 2020-06-02 - 13:29:04

markesiaadjani posted a photo:

"O'zapft is'!"

CREDITS
- DIRNDL: Ghee - Milla Dirndl [in Sage] @ the WIP Event June [Open on the 2nd of June]
- SHOES: .KIMBRA. - Paris Heels
- SKIN: FNTT STUDIO - Camilla Skin in Normal [Lelutka Evo Heads & BOM]]
- BODY APPLIERS: NARCISSISTIC - Natural Fit Body appliers [in Normal]
- LIPSTICK: Amuse Bouche - Physical Collection HD [Shown on Lelutka Head on the picture, available also for Genus] @ the WIP Event June [Open on the 2nd of June] Published: 2020-06-02 - 07:12:01

viralkhichdi posted a photo:

from my tumblr blog Published: 2020-06-02 - 05:31:11


karinapenapr posted a photo:

Bracelets Stack, 3 Pearl Bracelets Set, Summer Stack, Elephant, Heart Flower Published: 2020-06-02 - 00:10:59

hamza1stbd posted a photo:

Hello,
This is an Islamic related abstract modern and creative fashion logo design. I hope you like this and give me feedback.
If you want these types of a logo for your business, knock me in fiverr.
Here is the link- www.fiverr.com/hamza1stbd
Thank you. Published: 2020-06-01 - 14:12:05

Niki Cole posted a photo:

For all the credits, please check the Blog

Hit of the day: Elton John - I'm Still Standing Published: 2020-06-01 - 12:49:06

Bitcoin CrypTO posted a photo:

Bitcoin และตลาด crypto ในภาพรวมได้เข้าสู่ช่วงรวบรวมกำลัง (Consolidation Phase) ในช่วงสองสามวันที่ผ่านมา เพื่อสร้างแรงผลักดันให้สูงขึ้น.....
อ่านต่อ bitcoinaddict.org/2020/06/01/these-three-factors-show-bit... Published: 2020-06-01 - 04:28:55

Eric G. posted a photo:

instagr.am/p/CA3xvsEBHTJ/ Published: 2020-06-01 - 00:56:19

markesiaadjani posted a photo:

''Noir is a court of human relations, and some crimes are beyond legal restitution.''

CREDITS
- TOP: .KIMBRA. - ANNITA TOP [SILK] Exclusively @ The Circle Event
- MONOCLE: Madame Noir - Interactive Monocle @ the WIP Event June [Open on the 2nd of June] Published: 2020-05-31 - 13:46:28

Niki Cole posted a photo:

For all the credits, please check the Blog

Hit of the day: Mariah Carey - Thirsty Published: 2020-05-31 - 12:51:43

Eric G. posted a photo:

instagr.am/p/CA0Eg6Rh0AA/ Published: 2020-05-30 - 13:56:15

f1korporatwanita.bc571928 posted a photo:

From Creeper Creative ift.tt/3gBPuvs Published: 2020-05-30 - 13:06:40

onedothealth posted a photo:

Blow up your sales by achieving these 🔑 key strategies with one of the best digital marketing companies in chennai.
Drive new revenue and improve your sales game now with our digital marketing consultant in chennai expert - onedotm.com/
#SocialMedia #SMMStrategy #SMM #SEO #Branding #Leads #DigitalMarketing #Business #Trends #OneDotMedia Published: 2020-05-30 - 08:43:43

markesiaadjani posted a photo:

"Look on the pink side of life."

CREDITS
- BIKINI SET: L.I.C. - Teene Kini Set
- STOCKINGS: [I<3F] & co. - Joleen
- TATTOO: TAOX TATTOO - Belly Inverted Cross [UNISEX[
- MAKEUP [Lipstick & Eyeshadow Set]: Identity Body Shop - Love Spell Collection [Lelutka Version worn, also Genus & Catwa versions available] @ Mainstore for Happy Weekend
- COLLAR: .Little Devil. - Satan's pet collar Published: 2020-05-30 - 07:32:20